Customer care
Customer stories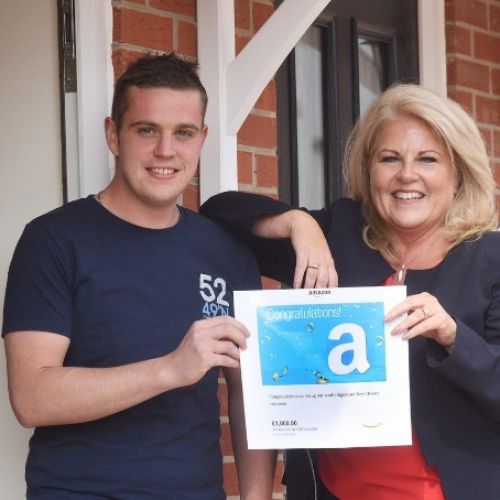 Homeowner Daniel with his £1000 Amazon voucher for becoming Signatures 100th customer.
Daniel Sherwood is one of those who have benefitted from our new homes. He bought the 100th home sold by Signature during the last financial year.
The engineer from Highley in Shropshire had been struggling to get on to the property ladder for a while but thanks to the Government's Help to Buy scheme, he has managed to buy a two-bedroom house at our development in Sherbourne Gardens, Highley. Daniel said:
I'm from Highley originally, all my family live in the area and I've worked in the village for 10 years, but I was struggling to afford to get on the property ladder here.

I was living in an apartment in Kidderminster for two years, but now I've moved in with my aunt in the village.

The Help to Buy scheme has been really good news, making it affordable for me to move back into Highley. My life is here, so I'm really excited to finally have my own home in the village.
The development, which has 35 high quality homes – 10 of which were available as shared ownership – was completed in the Autumn of 2018.